Efforts to Reduce Environmental Impact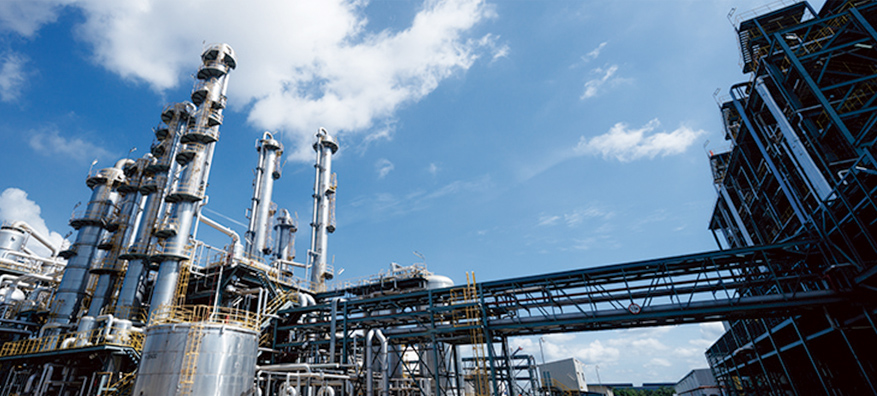 Greener Material for Automotive Interior Parts
Polyplastics received Greener Material certificates in the Chinese automotive industry for the second consecutive year.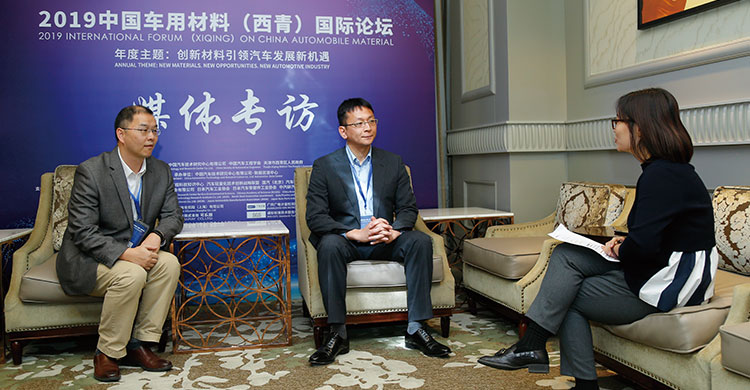 Hong Sun (left) CHINA TSC, Tomohiro Monma (center) Research and Development Center
We are working on the development and manufacturing of products with reduction on environmental impact for a sustainable society. Japanese, European, and North American automakers have long been working to reduce the volatile organic compounds (VOC) in the air inside vehicles as an important issue. In response to this, we have also researched, developed, and begun market sales of the low-VOC grade "LV series".
Recently, with awareness of health and environmental issues growing, the Chinese government has been making full-fledged progress on related measures, including legislation on VOC concentration in car interiors. Specifically a government-run organization called CATARC*1 has established conformity standards and evaluation methods to publicize materials with low VOC emissions. We have been cooperating for years with CATARC's evaluation research and with building a framework to select low VOC materials. Through this initiative, we have supported the market expansion of resins that can contribute to environmental harmonization. This resulted in a meeting hosted by our compound plant in China, which invited members of CATARC to study topics like the characteristics of polyacetal resins, quality management, and VOC evaluation methods. Then, in March 2018, CATARC certified DURACON® POM M90LV as the first plastic material to be a "Greener Material For Automotive Interior Parts (Low VOC)".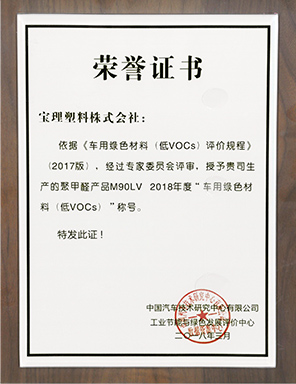 Then, this year another DURACON® POM product was newly certified. As a result for the second consecutive year, we received an award for greener material certified corporations at an international forum*2 held in Tianjin in March. We expect that this will lead to improving the vehicle interior environment as the VOC materials certification system for the Chinese automotive market becomes more widespread. We will continue our cooperation in this area in the future.
Also at this forum, we gave a presentation about the future direction of engineering plastics expected in the automotive industry on behalf of the Association of International Chemical Manufacturers in China. We hope to utilize our technology in China as well and make proposals for fuel efficiency through light-weighting materials and for low emissions through vehicle electrification, so as to contribute to the development of vehicles that are in harmony with the environment.
*1 Click here for information on CATARC (China Automotive And Technical Research Center).
*2 International Forum on Chinese Automotive Materials (Xiqing)
Topics for Environmental Impact Reduction activities
Energy-Saving Activities
Reusing Flash Steam Contributes Significantly to Energy Saving and Cost Reduction
The Fuji Plant's main sources of energy are the steam and electric power generated by its boilers. Previously the drain (high-temperature water droplets) generated by the boiler steam was collected in the water supply tank and reused. However, the flash steam* generated by this recovery process was released into the atmosphere. This year we decided to focus on this issue and set up a new system (three steam compressor units) that can recover this flash steam and reuse it as energy. By repressing boiler operation in this way, we have been able to significantly reduce the amount of LNG used, thereby contributing to energy saving.
(This is anticipated to result in a 113 million yen decrease annually.)
*Flash steam which can also be described as re-evaporated steam is the steam that results when drain occurring from steam in a high-pressure, high-temperature boiler is exposed to a low-pressure, low-temperature environment.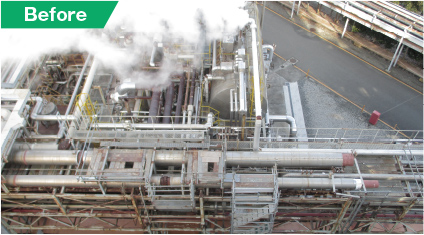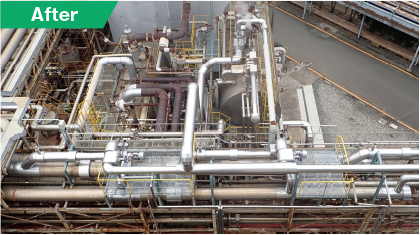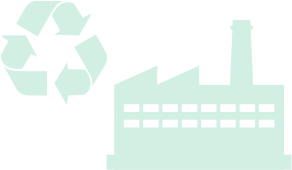 Reducing Industrial Waste
Initiatives to Reduce Waste by Selling Used Product Bags
The Fuji Plant is promoting initiatives to reduce industrial waste. Since FY2014, the plant has been reviewing ways to reduce the amount of product bags (e.g. paper bags used for raw materials, paper bags used in plant processes) which conventionally were disposed of. Ultimately it was decided to ensure separation of waste and sell these bags. This year we successfully sold approximately 55% of our used product bags.
We will continue to work to further reduce waste in the future.
Green Logistics
Reducing CO₂ Emissions and Basic Unit of Energy Consumption in Logistics
This year the Fuji Plant was able to curb CO₂ emissions in product transport and other logistics processes down at about 88% over the previous year. It also reduced the index of the basic unit of energy consumption (against sales volume)* to about 86% over the previous year. As a background, we started importing some of our products. It enabled us to shorten the truck transportation distance. We are working toward environmentally friendly logistics through our ongoing modal shift initiatives and by continuing innovative efforts such as proactively utilizing return vehicles with our logistics partners (raising distribution efficiency by shipping materials and purchased goods on product transport return vehicles).
*Basic unit of energy consumption = Energy used (equivalent in kiloliter of crude oil) / Sales volume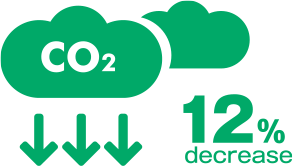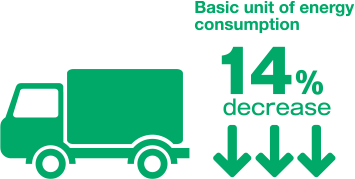 CO₂ Emissions and Basic Unit of Energy Consumption (Index) in Transport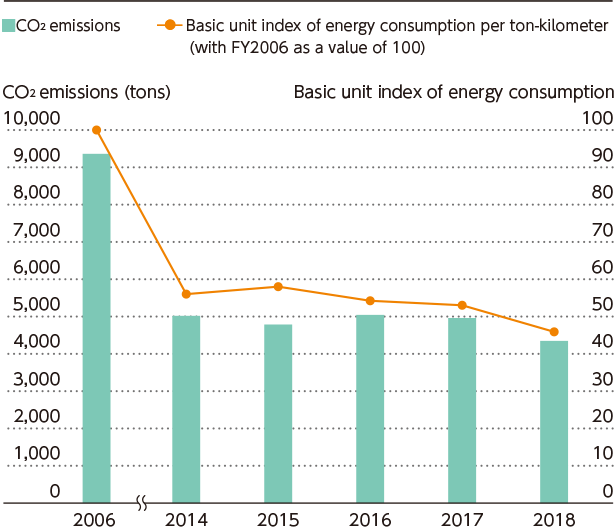 FY2018 Environmental Impact Reduction Targets & Status of Achievement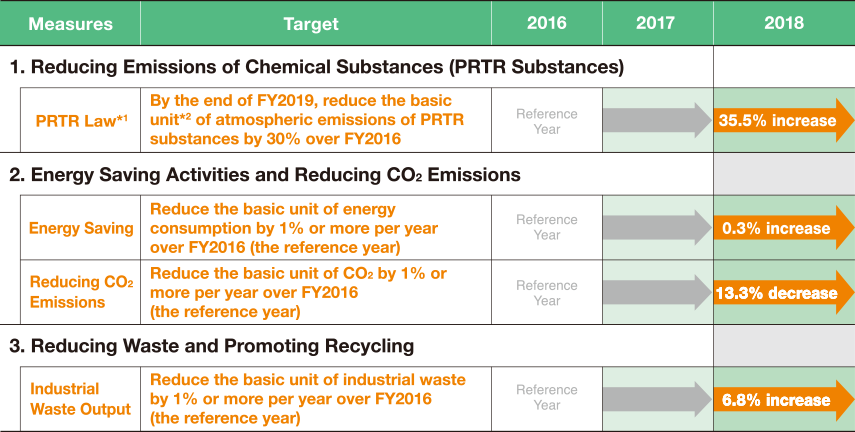 *1 Abbreviation for "Pollutant Release and Transfer Register." A system for recording and reporting the volume of chemical substances released into the environment by plants and the volume of chemical substances in industrial waste
*2 Release, usage, and/or generation per production volume
1. Reducing Emissions of Chemical Substances (PRTR Substances)
This year the basic unit of PRTR substances increased by 35.5% over FY2016 (the reference year).
We are doing all we can to achieve our group-wide goal in FY2019, including confirming and reviewing the effects of the system we introduced this November, which is expected to help reduce PRTR emissions.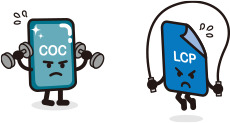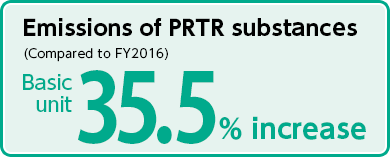 PRTR chemical substances
| | |
| --- | --- |
| 1 | Antimony and its compounds |
| 2 | Xylene |
| 3 | Silver and its water-soluble compounds |
| 4 | 1,4-dioxane |
| 5 | 1,3-dioxolane |
| 6 | Hydrogenated terphenyl |
| 7 | Terephthalic acid |
| 8 | Dimethyl terephthalate |
| 9 | Triethylamine |
| 10 | 1,2,4-trimethylbenzene |
| 11 | n-butyl-2,3-epoxypropyl ether |
| 12 | Benzene |
| 13 | Boron compounds |
| 14 | Formaldehyde |
Basic Unit Index of Atmospheric Emissions of PRTR Substances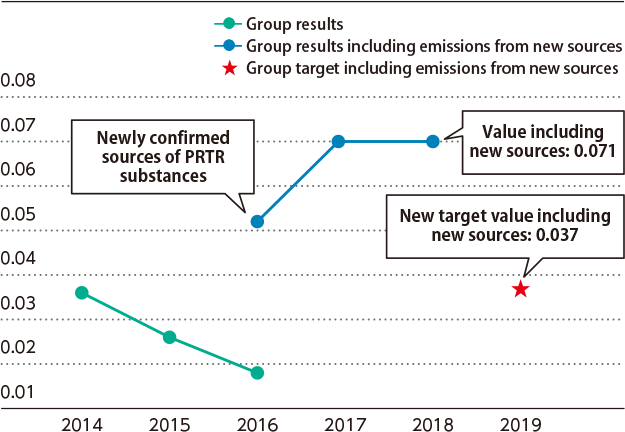 2. Energy Saving Activities and Reducing CO₂ Emissions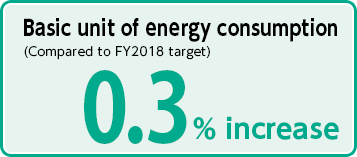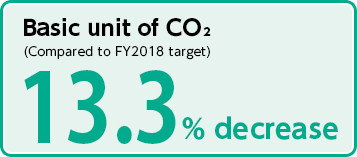 This year the basic unit of energy consumption increased by 0.3%, and the basic unit of CO₂ decreased by 13.3%. With last year's energy facility changeover, Fuji plant was able to switch from producing electric power internally to purchasing it externally. While this did reduce the basic unit of CO₂, on the other hand, energy efficiency fell, leading to a slight increase in the basic unit of energy consumption.
Basic unit index of energy consumption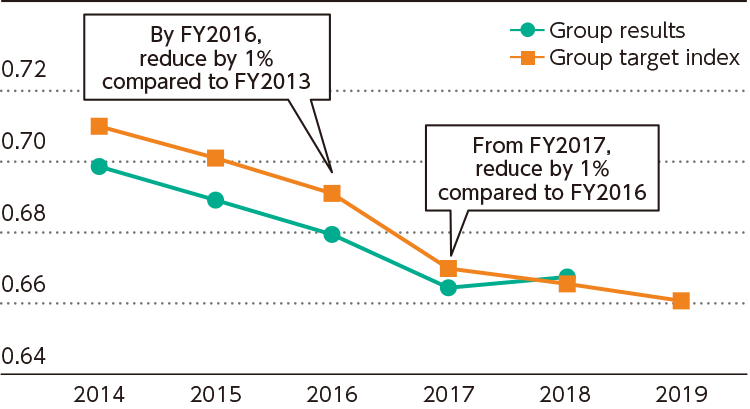 Production-related basic unit index of CO₂ emissions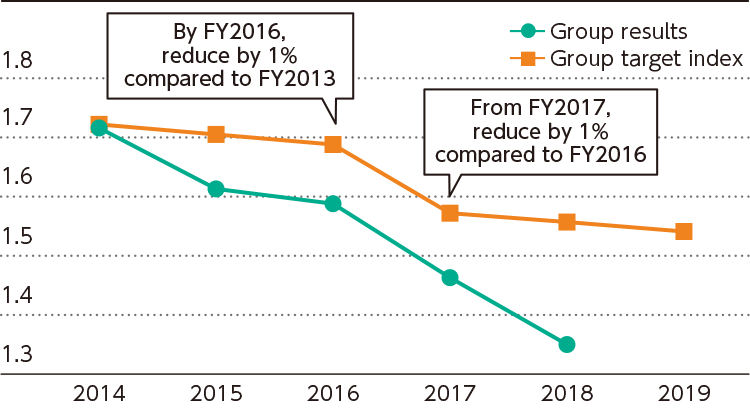 3. Reducing Waste and Promoting Recycling
Our group is working together to reduce waste by recycling waste materials and by reducing the amount of waste. This year our basic unit of industrial waste increased by 6.8%. It has been suggested that the cause of this increase was mainly an initiative to improve delivery quality, in which we switched to disposing of each resin pallet as waste, while some plants had previously recycled them. We will continue working to balance delivery quality while recycling these pallets as much as we can.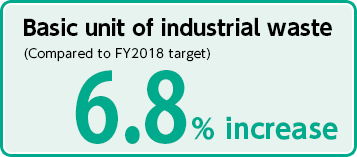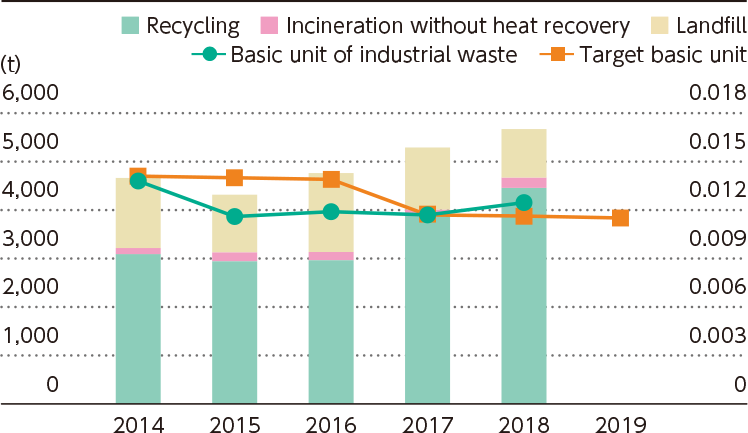 Preventing air pollution and water pollution
The Fuji Plant complies with laws and regulations and is constantly monitoring the following items in order to prevent environmental pollution caused by atmospheric pollutants and industrial wastewater.
NOx (Nitrogen Oxide) emissions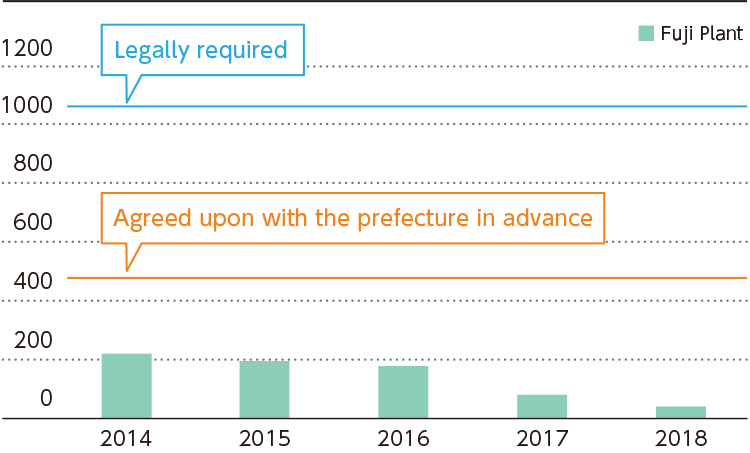 SOx (Sulfur Oxide) emissions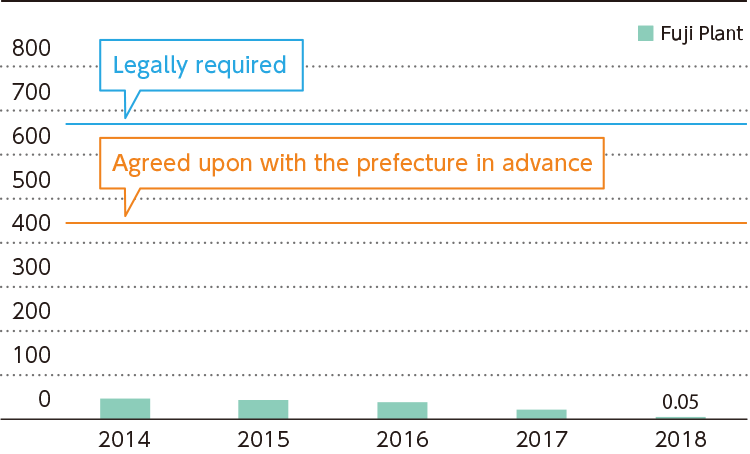 Smoke and dust emissions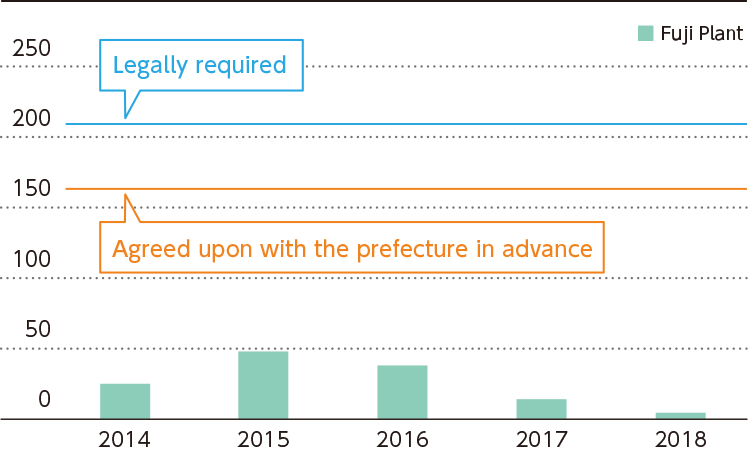 Chemical Oxygen Demand (COD) in wastewater emitted from plant