Creating Safe and Healthy Workplaces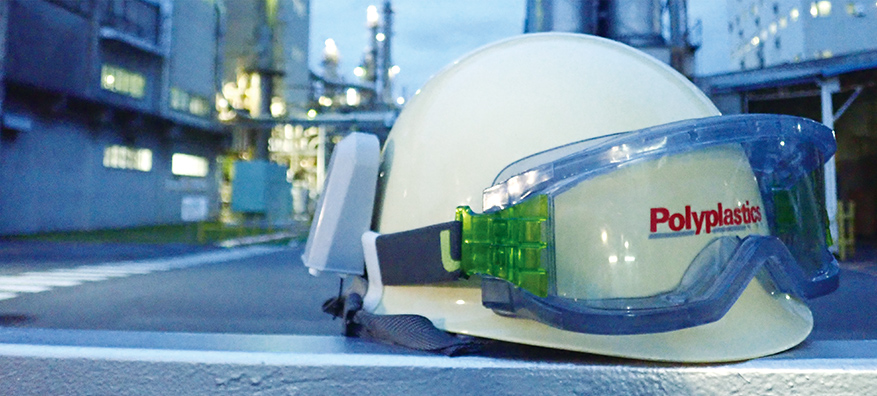 Initiatives to Prevent Serious Accidents
In order to achieve our goal of zero occupational disasters, Polyplastics defines common targets across the group, and works toward raising the safety awareness of all the people who work for us.
After serious accidents occurred in FY2015 and FY2016 (including falling from high place and collisions between a person and forklift), in FY2017, we invited an external lecturer with experience as an automaker's senior safety executive to give lectures and training as to safety management. Based on this training, this year we began activities that incorporate the approach of preventing serious accidents*.
Specifically each division conducts overall inspection of facilities and operations on the premises from the perspective of preventing serious accidents, and collects facilities or operations with the risk of leading to serious accidents. There is also a system to evaluate by scores and determine priority from the perspective of the accident's severity (the likelihood of it leading to death), the frequency of the operation, and the level of risk (state of facilities/workers), and we make plans to handle them.
Also in order to create safety standards for facilities we have collected past examples of accidents and problems and worked toward standardizing facility safety with consideration for countermeasures. So far, this has only taken place at the Fuji Plant, our mother plant, but in the future, we intend to expand it to group company plants as well.
*Serious accidents are defined as incidents that involve the risk of death or lasting after effects.
List of Risks

Falling
Catching or crushing
Contact with high/low-temperature materials
Contact with hazardous substances
Flying or falling objects
Traffic accidents (collisions with vehicles)
Heat stroke
Topics for Safety activities
Example of Catching/Crushing Countermeasures (At the Opening of an Industrial Water Pump)
There was a risk of employees' hands getting caught when put in the opening, so we added a cover to remove the source of the accident.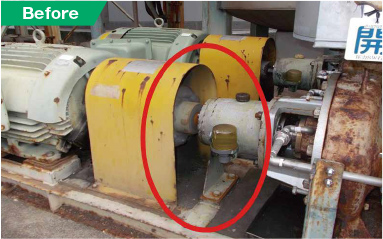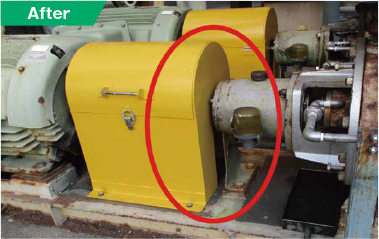 Risk Simulation Training
We conduct Risk Simulation Training, an experience-based education program, to raise the safety awareness of all the people who work for us and our partners. We have expanded these initiatives from the Fuji Plant to group company plants, and the group is working together as one to further improve safety awareness.
A scene from Risk Simulation Training at our Nantong Plant in China (PTM/PNL)
In order to make our employees understand the importance of wearing helmets, we dropped objects on a dummy with helmet.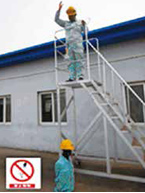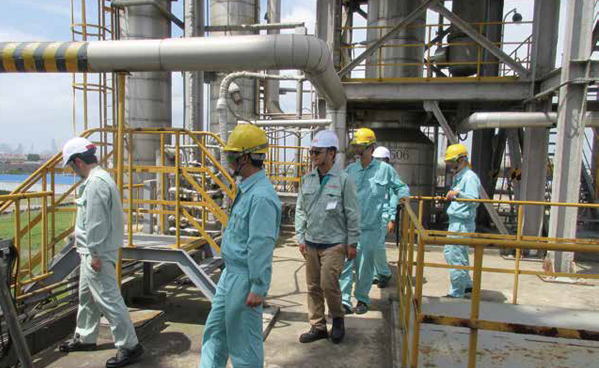 ESH Audits
We conduct mutual ESH audit at group company plants every year, sharing our knowledge of safety and environmental issues. This year an audit was conducted at our Nantong Plant in China (PTM/PNL). The audit participants include not only the persons in charge of safety and environment of each plant, but also employees from other divisions who can utilize the knowledge of group plants in their own field.
Comment from employee participated in the audit from the Fuji Plant's Manufacturing Division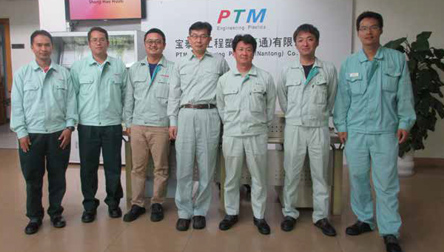 Occupational Health and Safety
In the aim of creating safe and healthy workplaces, Polyplastics is engaged in initiatives to manage environmental, safety, and health issues as well as logistics safety.
Group Target
Zero lost-time injuries and non-lost-time injuries, including in-house contractors (numerical target: OIR*1≤ 0.07)
Zero fire or explosion accidents
Main Initiatives
Establishing safety basic rules
Implementing regular G-ESH auditing of each plant
Promoting activities to raise safety awareness
Eradicating unsafe actions and unsafe conditions through site patrols
Promoting TBM&KY*2 activities
Improving risk assessment*3 skills
Promoting near-miss accident activities*4
Thoroughly enforcing 5S practices*5
Entrenching the pointing and calling
Reducing the risks related to the occurrence of a state of emergency
*1 A safety index indicating the rate of occurrence of industrial accidents, based on the number of accidents resulting in worker injury with or without loss time per 200,000 man-hours of labor
*2 TBM/KY activities [Toolbox meeting (TBM) and KY (from the Japanese term for predicting danger) activities] Prior to the start of operations, workers break into small groups and try to identify the dangers in their work operations and arrangements of the day in order to plan the procedures for safe work operations. Traditionally, workers held these meetings while sitting on their toolboxes, hence the name
*3 A series of steps to specify risks and hazards in the workplace, estimate the level of such risks, set priorities regarding operations, and decide on measures to be taken to reduce risks. Based on the results of this process, appropriate countermeasures will be taken against occupational disasters
*4 These activities aim to prevent accidents through the collection and disclosure of reports concerning incidents where disaster has been narrowly averted (near-misses) experienced by workers during work operations
*5 5 basic practices for workers known as the "5S" system (based on 5 Japanese words beginning with "s" that means, sorting, setting in order, cleanliness, hygiene, and discipline)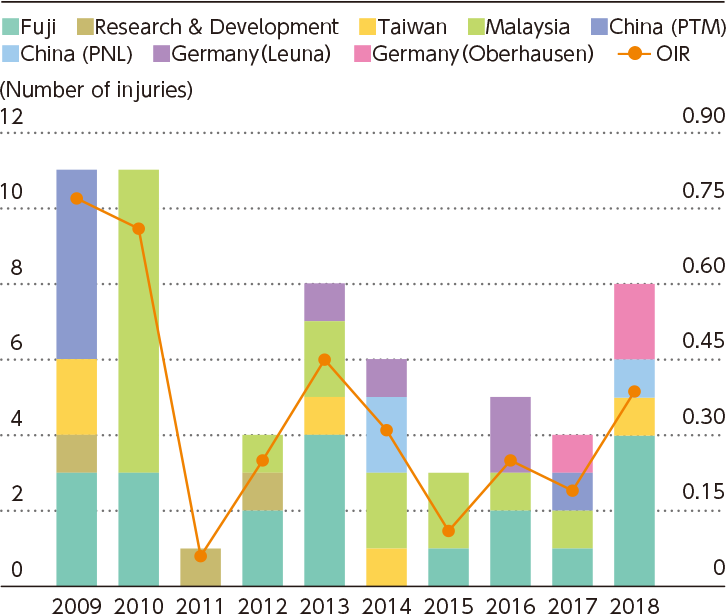 Unfortunately, in this year, there were 4 lost-time injuries* and 4 non-lost-time injuries. As a result, we were unable to reach our group target of "zero lost-time injuries, including in-house contractors" or our numerical target of "a 0.07 OIR or lower."
Looking at the results for individual plants, we see 2 lost-time injuries and 2 non-lost-time injuries at the Fuji Plant in Japan, 2 lost-time injuries at the Oberhausen Plant in Germany, and 1 non-lost-time injury each at the Nantong Plant in China (PNL) and the Dafa Plant in Taiwan.
When such accidents occur, the plants naturally take emergency measures, and also consider taking permanent countermeasures to work toward preventing recurrence.
Going forward, we will continue to prioritize the safety of each and every one of our employees, including in-house contractors, and we will strive to put this intention into practice in our daily actions.
* We define "lost-time injuries" as those from which 1 day or more of time is lost as a result of an accident (while Japanese law defines it as 4 days or more).