02HIGHLIGHT
FY2019
CSR Activity
Highlights
Technical Solution Center
Grand Opening
in the USA
Providing the World with Technological Innovation Support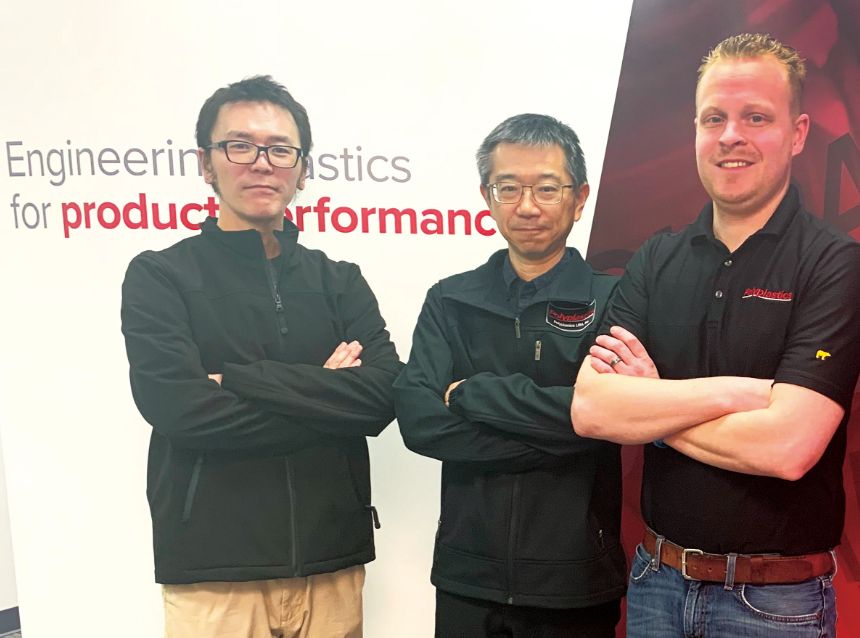 At Polyplastics, we continue to expand the number of overseas business sites we operate in order to better contribute to technological innovation among our customers worldwide. Previously, our technical support for customers has mainly focused on Asia, and through this support we have facilitated technological innovation in the electrical components, automotive parts and other products of a number of different customers. In 2012 we opened our first sales company in the USA, and this was followed in 2013 with the pre-opening of a Technical Solution Center (TSC) to provide development support to customers locally. Since then, as our equipment and human resources have grown, we have continued to develop our capacity to promptly and accurately meet the on-site needs of customers, culminating this fiscal year with the grand opening of the Americas TSC.
Providing detailed and timely solutions along with greater accessibility for local customers
Prior to the grand opening of the TSC, our lack of local manpower meant that technical support had to be provided remotely, or involved dispatching team members from Japan, and the time differences involved meant that we were unable to address issues in a sufficiently speedy manner.
However, now that we have opened the Americas TSC, we have more equipment and human resources which enable the detailed and direct customer communication, from which we can find out our customers' specific needs and then promptly offer solutions which utilize materials with physical properties optimally suited to those needs. This added responsiveness has contributed to customers' decisions to adopt Polyplastics materials. (For example, acid-resistant POM. Learn more)
Existing support system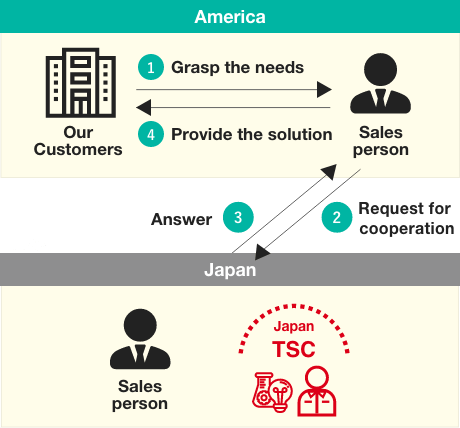 Support system following opening of Americas TSC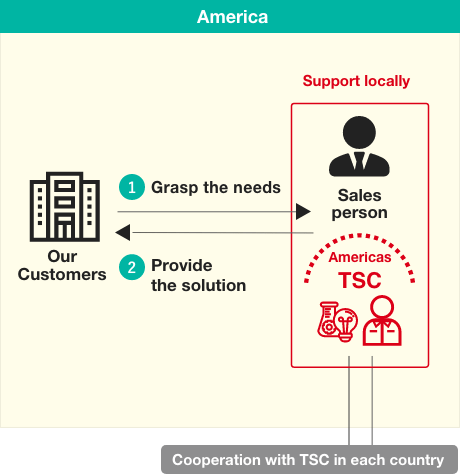 Capitalizing on a global technical solutions network
With the grand opening of the Americas TSC, we now have five TSC worldwide, and our technical solutions network is becoming truly global in scope. Moving forward, we will continue to use our individual TSC to provide accessible, timely and meticulous support to our local customers, and at the same time we will capitalize on the network to provide direct support to the customers who are themselves expanding their operations globally. For example, in the case of a customer who manufacturers metal molds in China which are then used to perform molding in the USA and Mexico, we are able to support their metal mold manufacturing through our G. China TSC and their molding operations through our Americas TSC.
Furthermore, the Americas TSC has enabled us to smoothly and quickly approach for manufacturers headquarters in the USA and register our materials for their global model products. We are now able to expand our support for technological innovation between our own products and those of our customers on a more truly global scale.
Strengths of the TSC Support System
Provide solutions which address needs gleaned from detailed, on-site consultations with customers
Provide speedy responses which are handled locally
Provide integrated supports by working in concert with TSC in other countries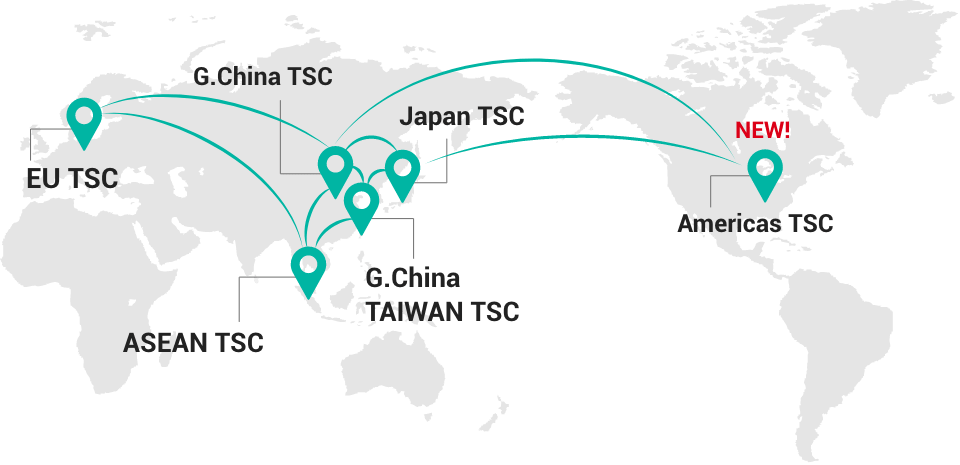 TSC sites worldwide
Example) Support for global companies with manufacturing sites in different countries

Scheduled grand opening of TSC in Germany as part of our plan to be the No.1 solutions provider worldwide
In order to provide more meticulous and timely service to our European customers, as well as support the manufacturing of an even larger customer base, we are planning the grand opening of TSC in Germany in the near future.
This is part of our larger, ongoing efforts to become the world's "No.1 engineering plastic solution provider" capable of contributing to the shaping of an abundant society.