Cultivating human resources
Initiative for Global Rotation
Global rotation is an initiative in which Polyplastics implements group personnel changes across borders to realize "Appropriate person for Appropriate job". We expect that this program will not only be effective in terms of performance improvement and earlier career experience for the eligible personnel, but that it will also contribute to accelerating globalization and communication skills on a group wide basis. We conducted the global rotation for 20 employees this year.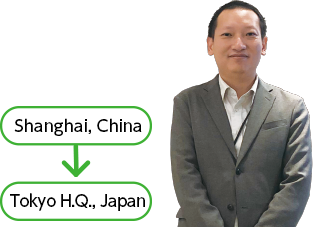 Ejo Zhu
Unit 1, Japan Business Unit,
Global Marketing Team

Experience of Transferring to Another Group Company
We interviewed to an employee who transferred from Shanghai, China to the Tokyo H.Q. in November 2018.

In Shanghai, Speed Was Always the Top Priority
Polyplastics' strength is the development support that comes from the cooperation between our sales and technology divisions. Sales activities in Shanghai require a sense of speed. We have come to provide the most suitable solutions through a process of trial and error in cooperation with the local technical solution center.
Successful Laser Transmittance Evaluation,
Which Considered Impossible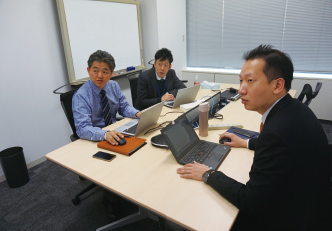 When I was transferred to Japan and began working on a development project for a customer, I was shocked to learn that Polyplastics succeeded at laser transmittance evaluation, something I had considered impossible in Shanghai. I also achieved other sophisticated types of analysis and evaluation that had seemed impossible. I am now gaining practical experience while studying the knowledge and facilities of technical bases in Japan, as well as how Japanese sales and technology divisions work together.

Providing More Innovative Solutions to Our Customers
"Being so deeply involved in support for our customers' product development allows me to feel the potential of the value that the group can create and provide." This is one of the great strengths of the global rotation initiative in which employees can gain practical experience. My experiences here allow me to serve as a bridge to continuously share information with the Shanghai team, and it helps us to deepen understanding within the group. The local team members are the most suitable for providing the best solutions to our customers in China. With the combined power of the Polyplastics whole group, we can aim create to even greater value.
Toward a Fruitful Rotation
HR Department provides various supports for the eligible personnel.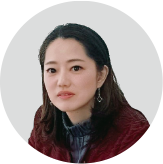 Shirley Xu
HR Department,
Shanghai, China
Key to the success of this rotation is communication.
We are carefully working to share information so that employees will be able to approach their work with positivity after their transfer.
To give them a deeper understanding, HR explains the purpose of the transfer, and the operations they will take charge of, as well as intercultural issues, and business practices. With the previous workplace also providing comprehensive support during their stay, we are using communication to relieve the anxieties of the employees and supporting them so that they can thrive in their local workplaces.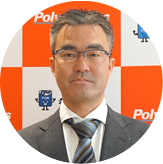 Takayuki Koike
HR Department,
Tokyo H.Q.
Toward a Company that Works as One Team, Where Every Employee Is Highly Motivated
To continue to demonstrate good performance, it is essential for Polyplastics that we use this program to place "Appropriate person for Appropriate job", move toward functioning as One Team, and cultivate the human resources we will need in the future. The HR Department is reinforcing the personal support system for transferees and their families. It also continues to support employees so that they can look at their careers from a broad perspective and work with a high level of motivation.
Through training
Management Training for Middle Managers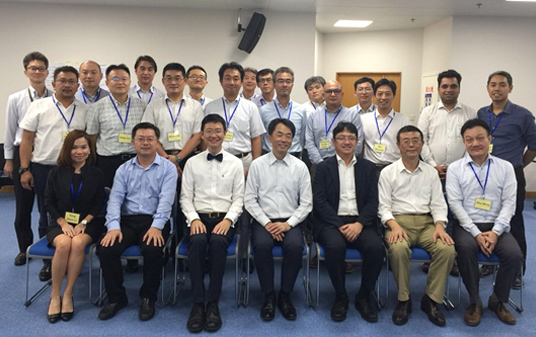 We have set up a group-wide classification system called "Global Grade", and provide management training for new managers in principle. In addition, in this year, we provided training including leadership and better intercultural understanding for 20 middle managers.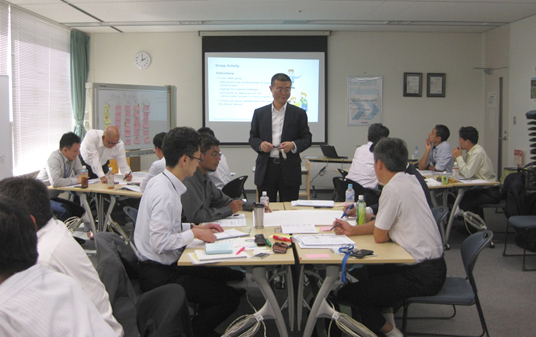 in TOKYO
In May 2018, we held a workshop called "Intercultural Communication and Effective Collaboration" at the Tokyo H.Q., attended by 20 managers from all Group companies. The participants used online tools to check their own cultural alignment in advance, and during the training they learned from the lecturer about intercultural management styles. Feedback from the participants included that they felt it was important for a global company to have different management methods for different countries and cultures.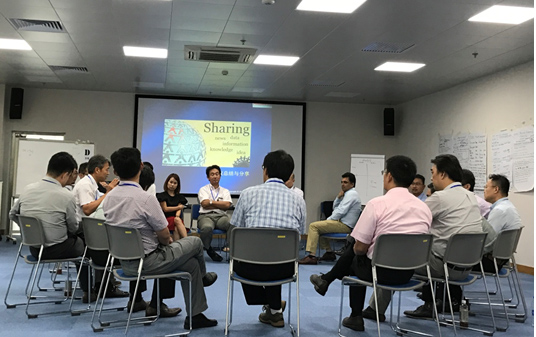 in SHANGHAI
In September 2018, we held another training session in Shanghai, with three-days workshop to learn about leadership. Through information sharing and exchange of opinions, the participants learned that leadership is necessary in order to achieve excellent teamwork. Comments from participants included "It helped me deepen my understanding of leadership," as well as "Learning from exercises after the workshop gave me a deeper understanding," and even "I hope to participate in this kind of training again."
Forum to Promote the Success of Women in the Workplace
As the first step in achieving a level of diversity and inclusion worthy of Polyplastics, we held a forum to promote the success of female employees on the administrative track. There were lively discussions over the two days program, with many opinions exchanged.