2023
New conductive DURANEX® PBT for millimeter wave radars: helps reduce processing costs by enabling two-stage molding of radomes
Polyplastics has released DURANEX® PBT 201EB, a new electrically conductive grade for millimeter wave radar applications. 201EB has the added feature of electromagnetic wave shielding (absorption) since it imparts electrical conductivity. Moreover, using 201EB in electromagnetic wave absorbing materials enables double-shot molding with radome materials made from PBT resin, making it possible to reduce production cost for assembly. For that reason, it could be considered as a material that helps to reduce costs.

Main type of sensor comprising driver-assistance systems in automobile
Millimeter wave radar is a type of sensor that measures the distance, speed, and angle of objects such as cars ahead by sending and receiving radio waves (electromagnetic waves) in millimeter wave bands. The market for millimeter wave radar is rapidly expanding since it is also increasingly being used for periphery monitoring of vehicles, including on the rear side, thanks to its ability to accurately recognize distances and other parameters even in bad weather and at night.
At Polyplastics, we are working toward producing materials for millimeter wave radar applications through two approaches that contribute to reduced costs in our customers' processes and greater freedom in design.
 Approach 1: Offer greater freedom in design through the use of PBT resin in radio wave absorbing materials:
                          Electrically conductive grades
 Approach 2: Achieve size reductions via laser welding: Grades for radomes
Offer greater freedom in design through the use of PBT resin in radio wave absorbing materials: Electrically conductive grades
We often see cases of electromagnetic wave absorbing materials partially incorporated on the back side of radomes that transmit electromagnetic waves. Incorporating electromagnetic wave absorbing materials has the effects of reducing millimeter wave reflection noise and inhibiting the occurrence of detection errors (increasing accuracy of detection). However, a process is required to attach conventional rubber electromagnetic wave absorbers to the back of radomes, and this process has been a problem to simplify.
DURANEX® PBT 201EB is a grade with the same PBT resin base as radomes, and it also bonds extremely well with radomes. The process for bonding electromagnetic wave absorbing materials with radomes can be simplified through the use of methods such as double-shot molding.
Achieve size reductions in laser welding: Laser transmission grades
PBT resin is frequently chosen as a material for radomes and housings in light of its stable radio wave transmissibility and dimensional stability. Additionally, since the fasteners for these items require airtightness, either packings and adhesives, or bonding through methods such as welding can be used. Bonding via laser welding that can achieve size reductions has been gaining attention in recent years.
 Laser welding is a technology that welds by transmitting laser from the transmission side (radome) for absorption and heating on the absorbing side (housing). Materials on the transmission side must have high laser transmittance and low warpage. We offer DURANEX® PBT 730LW with various well-balanced properties, as well as DURANEX® PBT 330LW which has even higher laser transmittance and is also compatible with multi-scan laser welding. Either of these materials should be suitable according to your needs.
* Please refer to this article for details about laser welding materials.
 https://www.polyplastics.com/en/product/lines/pbt_330lw/index.html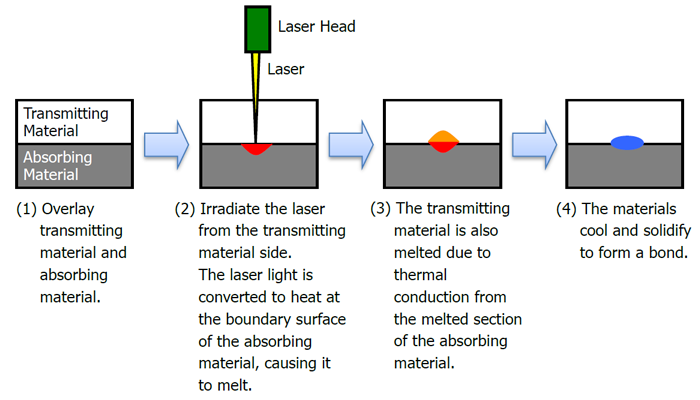 As explained above, using 201EB in electromagnetic wave absorbing materials can inhibit the occurrence of detection errors and simplify processes. Using 730LW or 330LW in radomes also makes it possible to seek size reductions via laser welding.
Please see the physical properties data and various properties of these grades in the downloadable reference materials. For more information, please either contact one of our sales representatives or click "Contact Us" at the top-right of this page to inquire.

【 Related information 】
・DURANEX® PBT 330LW A New Laser Welding Grade with Superior Transmittance and Low Warpage (27th April 2022 ver.)
・Materials and Technologies for ADAS Parts- Sensor Edition
【 Physical properties 】
 ◆ 201EB  ◆ 330LW  ◆ 730LW
[ For inquiries about our technologies and materials, please contact us via ]
 ◆ Polyplastics Group Representative
 ◆ WEB Inquiry