2017
Discover our new booth at Fakuma 2017 – "Driving Innovation Forward"
Polyplastics Co., Ltd.
From 17th to 21st October, Friedrichshafen will once more become the temporary spotlight of the plastics world: This year´s Fakuma is expecting roughly 40,000 visitors, who are going to visit 1700 exhibitors from 35 countries, catching up on all the latest trends of the plastics industry.
From this year, Polyplastics Europe can be found right at the heart of Fakuma, at booth B1-1213 in hall B1. With e-mobility as our central theme, we are delighted to announce that not only the plastics world is moving fast, we are too:
At our brand-new booth, customers will have the chance to explore 60 square meters full of
DURACON® POM with brilliant sliding abilities – your perfect fit for gears and friction parts!
DURANEX® PBT– our solution for your connectors and sensors!
DURAFIDE® PPS– your perfect material for all e-mobility related applications!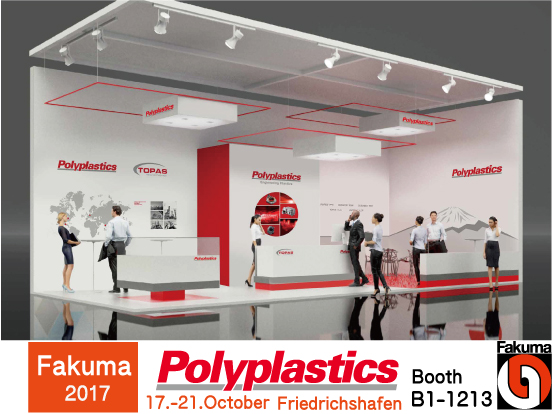 Additionally, driving innovation forward is not only our call for e-mobility, it also applies to our research and development activity. With a newly established technical support center in Frankfurt, we now offer more support and make our material the perfect fit for your product. 
At our booth, customers can challenge the profound knowledge of our technical staff, connect with sales staff from around the globe and receive a whole package that will provide assistance from development to final production and delivery.
The Japanese keen eye on technical details is what makes us strong. If you want to drive your innovation forward, look out for the top – of Mount Fuji in hall B1.
Contact:
Melanie Laukemann
Polyplastics Europe GmbH
Tel : +49-69-305-13589