2020
Beware of counterfeit products in Chinese market (5)
To all customers
Thank you very much for your continued patronage of Polyplastics.
On July 10, 2017 we announced that we had found a counterfeit Dealership Certificate in one of our website topics "Beware of Counterfeit Products in China (4)." Now we have learned that the following two companies forged a Dealership Sales Contract or Dealership Certificate, falsely named our group company's dealership, and sold counterfeit products.
(1) 佛山塑运达塑料有限公司 (Foshan SUYUNDA Plastic Co., Ltd.)
The illustrations below show the fake Dealership Sales Agreement issued by the company.
(2) 深圳市欧塑科技有限公司(Shenzhen OUSU Technology Co., Ltd.)
The illustration below shows another fake Dealership Certificate issued by the same company.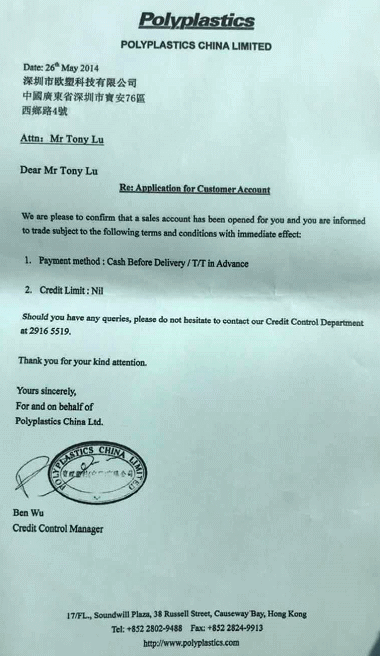 Polyplastics and our group companies do not issue any such certificates.
In addition, when we analyzed the products sold by the above-mentioned two companies as products of our group, we confirmed that all were fake.
Our company and our group companies do not have any cooperation with these two companies, and we do not guarantee that products sold by these two companies are produced and sold by our group.
In addition, on June 29, 2018, we named a site that falsely represents our agency on a third-party Internet site in the topic "Beware of Stores Falsely Representing Our Agents". We conducted another survey and found a similar site. Today's topic is "Notice about Stores that Falsely Represent Our Agents (2)". Please read those topics and continue to exercise caution.
We ask that our customers purchase our products through authorized channels. If you do not know the official route, please contact the nearest company or group company, or use our website.
If you have any concerns about the resin products you are currently using, please contact our sales representative. Finally, please understand that Polyplastics cannot be held responsible for any quality issues which may arise from the use of counterfeit products.
Going forward, we will continue to monitor market infringements and illegal activities to protect the interests of our customers, and will immediately remove any such activities found.