2020
TSCA High-Priority Substances for Risk Evaluation (Formaldehyde, p-Dichlorobenzene)
Polyplastics
Dear valued customers,
This is to inform you of a TSCA requirement that has recently been announced by EPA. According to this announcement, manufacturers of any of the 20 chemical substances designated as "high-priority chemical substances for risk evaluation" are required to self-identify by May 27, 2020 and fees associated with the risk assessment will be shared with all the identified manufacturers.
Polyplastics recognizes at this point that the following products are subject to the self-identification requirement.
Products
All grades of DURACON® POM
Formaldehyde(CAS No. 50-00-0) is contained as an impurity(polymer degradation product)
All grades of DURAFIDE® PPS
p-Dichlorobenzene (CAS No. 106-46-7) is contained as an impurity (residual monomer)
Deadline for self-identification
May 27, 2020

Method of self-identification
Electronic reporting on EPA CDX (https://cdx.epa.gov/)
Scope of self-identification requirement
U.S. manufactures and importers who are subject to this requirement as described in the following announcement of EPA.
https://www.regulations.gov/document?D=EPA-HQ-OPPT-2019-0677-0001
Impurities contained in products and importers of articles are also addressed in this announcement.
EPA mentioned in a conference held on February 24 that it would consider providing an extension to the self-identification period in response to numerous comments raised from participants that exemption should be given to some manufacturers. The following is an URL of the transcript of this conference.
https://www.epa.gov/tsca-fees/transcript-conference-calls-tsca-fees-epa-initiated-risk-evaluations
For those who are not manufactures or importers in the United States, please forward this information to your customers and relevant parties in the United States who are subject to this requirement. If you self-identify, you may be required to pay for the fee associated with risk assessment of the chemicals conducted by EPA.
More information may be released from EPA soon.
If you have any questions, please contact the following representatives.
Contact Information
Please inquire the subject as "TSCA" from the link below.
Poliplastics official website inquiry  
Sincerely yours,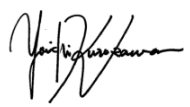 Yoichi Kurokawa
Chief
Quality Assurance Department
Disclaimer:
We, Polyplastics, have paid special attention to ensure that the information included in this Notice will be accurate. However, we do not guarantee or accept any responsibility for the appropriateness and accuracy of the content of this Notice.
While we have made every attempt to ensure that the information contained in this Notice has been obtained from reliable sources, we are not responsible for any error or omissions, or for the results obtained from the use of this information.
All information in this Notice is provided "as is", with no guarantee of completeness, accuracy, timeliness or of the results obtained from the use of this information.
Certain links in this Notice connect to other Web sites maintained by third parties over whom we makes whom we has no control.  We make no representations as to the accuracy or any other aspect of information contained in other Web site.