2022
Social Contribution Activities of Polyplastics Group (Second Half of Fiscal Year 2021)
Polyplastics Co., Ltd.
We, at Polyplastics, are actively engaged in social contribution activities which meet local needs and circumstances on group-wide basis.
The following is a partial list of activities undertaken in the second half of fiscal year 2021.
[Shanghai Office] Received an award relating to CSR from local Commercial Commission
Shanghai Office (China) was highly acclaimed for its work improvement in labor unions, human resources, safety, environmental preservation, and sales activity, at the CSR Evaluation Conference sponsored by the Commercial Commission of the Pudong
New Area, where the office is registered, and was awarded CSR AWARD as a "company with a high standard of CSR".
In addition, the Environmental Protection Excellence Contribution Award was awarded for its activities to nurture vegetables on
the roof terrace of buildings, in which about 20 employees participated, and for its garbage sorting activities and power-saving activities
at the office.

[Kaohsiung Plant] Participated in the Food Bank Activity
Kaohsiung plant participated in the Kaohsiung Government Food Bank activity.
This activity is held annually to provide the daily commodities to the family in need in the community of Kaohsiung city.
This year, 200 boxes of eggs and 400 rice balls wrapped in a bamboo mat were donated for this activity from 20 employees
and company. In addition, 4 employees and their family took part in the food distribution volunteer activity.

[Farmington Hills & Queretaro Office] Held CO2 reduction emissions
Farmington Hills Office (United States) and Queretaro Office (Mexico) hold the event to reduce each employee's CO2
emission using web application that can calculate CO2 emissions in personal daily life.
Each employee calculates his/her own CO2 emissions and takes measures to reduce it over the course of one year, and
re-measure the results at the end of the period. Meanwhile, the person in charge of CSR in each office is continuing to
support by sharing the ideas on CO2 reduction activities to employees.
They plan to perform emission measurements again at the end of March to confirm the reduction effect.

[Bangkok & Pathumthani Office] Held 3R Photo Contest
Bangkok and Pathumthani office (Thailand) held the 3R Photo Contest in order to improve the awareness of employees
toward effective use of resources and promote the practice. Employees submitted their photos which related to 3R
(Reuse, Reduce, Recycle) at home or work, and top 5 employees who have submitted the most photos were winners.
80% of employees took part in this activity.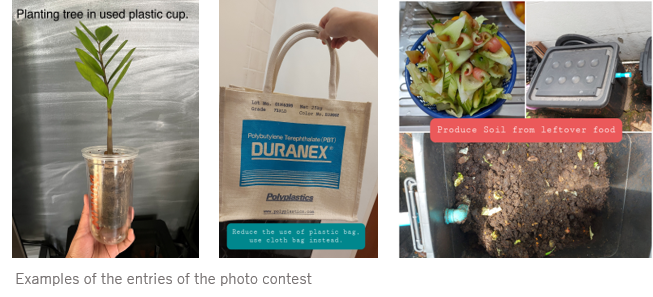 We will continue to address the social contribution activities as whole Polyplastics Group in order to be the company which can
contribute the abundant future society.
Related link
Social Contribution (CSR Report 2021) 
SDGs related to this article



1.End poverty in all its forms everywhere
13.Take urgent action to combat climate change and its impacts
14.Conserve and sustainably use the oceans, seas and marine resources for sustainable development
15.Protect, restore and promote sustainable use of terrestrial ecosystems, sustainably manage forests, combat desertification, and halt and reverse land degradation and halt biodiversity loss