2022
We Released CSR Report 2022
Polyplastics Co., Ltd.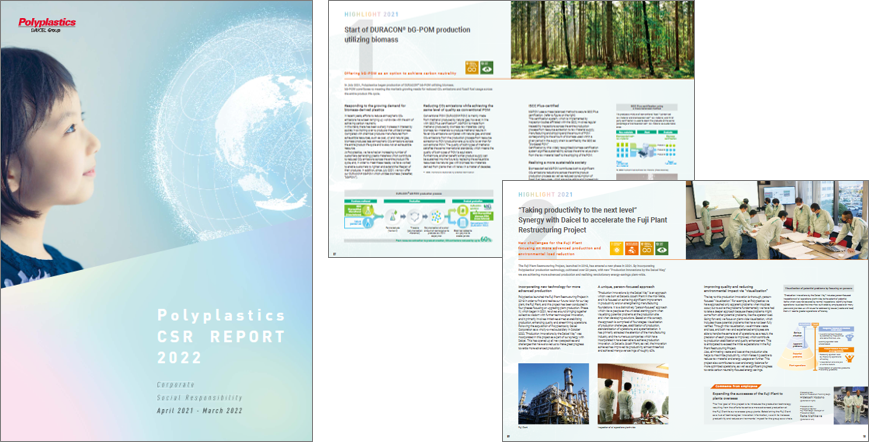 Our CSR Report 2022 was released.
https://www.polycsr.com/en/index.html
As stated in our Corporate Philosophy, our CSR (Corporate Social Responsibility) is to "Contributing to building an abundant future society through engineering plastics innovation".
Based on this concept, we will proceed our CSR activities from two perspectives: one is "Business Activities" (including four areas of "Engineering plastics business", "Harmony with the Environment", "Creation of Human Resources", and "Compliance") and the other one is "Social Contribution Activities."
The CSR Report aims to convey to stakeholders our initiatives and attitudes regarding such social responsibilities in an easy-to-understand manner.
[Characteristics of CSR Report 2022]
We became a wholly owned subsidiary of Daicel Corporation in FY2021.
Under this new organization, we have set more challenging targets for reducing environmental impact on both Daicel Group-wide and Polyplastics Group itself, and have begun implementing initiatives accordingly.
In this CSR report, we have included explanations on these new GHG reduction targets and new systems to promote the initiatives.
FY2021 was also a year of more aggressive efforts than before, in response to stronger demands from stakeholders for Carbon Neutrality and the Circular Economy (biomass products, etc.).
In this report, we introduced a number of such efforts.
We would appreciate if you could read through and enjoy it. 
We also welcome your frank opinions and comments for our better CSR Activities in the future.
Please contact us from the inquiry page.
Thank you.