2023
Newly Release "Sustainability Site" -First Feature "CO₂ as a Resource for Engineering Plastics"
Polyplastics Co., Ltd.
-First feature articles are "CO2 as a Resource for Engineering Plastics" and" Advanced energy conservation in TOX process that account for approx. 70% of CO2"–
Polyplastics has newly released the "Sustainability Site", (previously published as the "Web version of annual CSR Report") for the purpose of providing our stakeholders with the latest information on our sustainability initiatives more widely and more in detail.
In order to convey our efforts to everyone in an easy-to-understand manner, we have made the content and design with an emphasis on stories and messages. In the future, we will continue to introduce our efforts by adding new contents.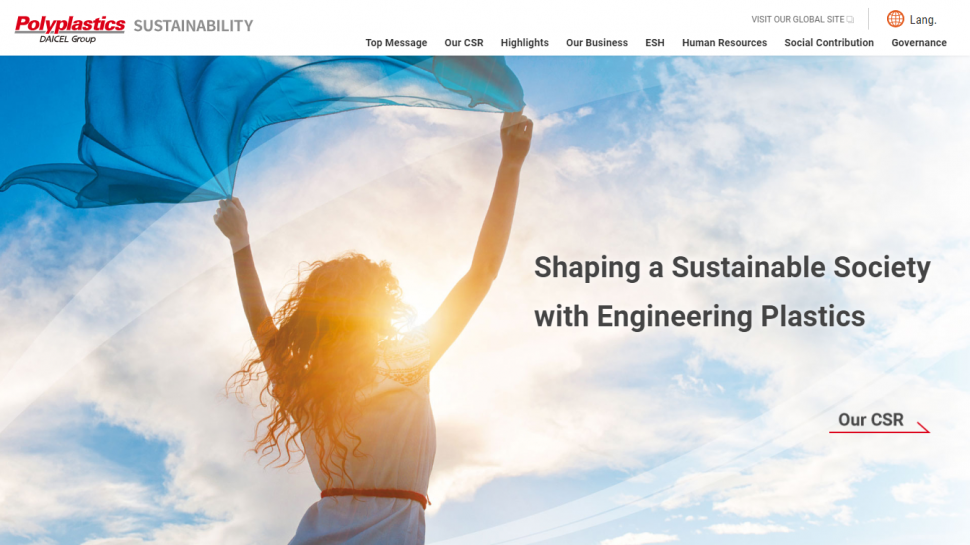 https://www.polycsr.com/en/index.html
As mentioned in our Corporate Philosophy, our CSR (Corporate Social Responsibility) is to "Contributing to building an abundant future society through engineering plastics innovation". Based on this concept, we are addressing our CSR activities from two perspectives: "Business Activities" (including four areas of "Engineering plastics business", "Harmony with the Environment", "Creation of Human Resources", and "Compliance") and "Social Contribution Activities."
[Characteristics of Sustainability Site]
In fiscal 2022, in response to the strong needs and demands from our stakeholders for Carbon Neutrality and a Circular Economy, we have strengthened our efforts more than ever and started many new measures with an eye on the future (CO2 as a Resource for Engineering Plastics, DURACIRCLE™ Re-compounding service, etc.). Our Sustainability Site introduces several of such initiatives. We would appreciate if you could read through it.
We also welcome your frank opinions and comments for our better CSR Activities in the future.
Please contact us from the inquiry page.
Thank you.