2023
New PLASTRON® LFT: An eco-friendly long cellulose fiber reinforced resin, aiding in reducing GHG emissions
Utilizing cellulose, a biomass material, Polyplastics has developed long cellulose fiber reinforced resin PLASTRON® LFT (Long Fiber Reinforced Thermoplastics) with significantly lower density and greenhouse gas (GHG) emissions than traditional glass-reinforced resins. This resin makes it possible to develop products that are eco-friendly while also having virtually the same mechanical properties as glass-reinforced materials. PLASTRON® LFT can be used for automotive applications such as door modules, center consoles and armrests.
Cellulose is a non-edible biomass raw material with the ideal properties for resin reinforcement
Usage of biomass raw materials is one essential requirement for eco-friendly raw materials. Biomass refers to biologically derived organic resources other than fossil resources, and it has the following characteristics.
    (1) Carbon negative (absorbs carbon dioxide in the air when manufactured)
    (2) Sustainable (raw material that can be procured sustainably, unlike resources such as natural minerals)
Cellulose is a biomass raw material that is a structural material. It maintains and preserves the shape of plants and wood inside organisms. Its excellent molecular structure and higher-order structure make it ideal for usage in resin reinforcement material.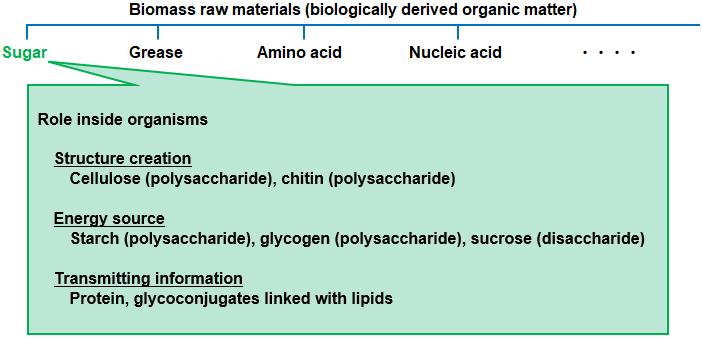 Types of biomass materials
Virtually the same mechanical properties as glass-reinforced material, but with drastically reduced greenhouse gas emissions
PLASTRON® LFT long cellulose fiber reinforced resin which we have now developed incorporates regenerated cellulose fibers* made using the Solvent Method which produces hardly any waste. In Table 1, we can see that PLASTRON® LFT long fiber cellulose-reinforced PP resin made using the Solvent Method emits less greenhouse gas when manufactured than typical glass fiber-reinforced PP resin.
* Regenerated cellulose fiber: Natural cellulose spun into continuous fibers through wet spinning.
Table 1. Comparison of long cellulose fiber reinforced PP resin with typical glass fiber-reinforced PP resin

Since it has nearly 10% lower density than glass fiber-reinforced PP resin, its greenhouse gas emissions are also even lower when compared in equal volumes.
We can provide samples of this product. For inquiries or requests, please either contact one of our sales representatives or click "Contact Us" at the top-right of this page.

*1. For raw materials, values in the IDEA V2-3 database and from cellulose fiber manufacturers were referenced and emissions during manufacturing for extrusion processing and long fiber resin processing were set to 0.2 Kg-CO2/kg for calculation.
【 Related information 】
 ◆ PLASTRON® LFT long cellulose fiber reinforced thermoplastic resin Weight reduction plus mechanical strength in an eco-friendly biomaterial
 ◆ Long Cellulose Fiber Reinforced Thermoplastics: PLASTRON® LFT
[ For inquiries about our technologies and materials, please contact us via ]
 ◆ Polyplastics Group Representative
 ◆ WEB Inquiry