2023
New technology for predicting sink marks in injection molded parts made of DURACONⓇ POM: Shorter development cycles and energy savings
Polyplastics has developed a technology that uses CAE analysis to predict sink marks*1 in injection-molded DURACONⓇ POM components. This innovative technology predicts the risk of sink marks before the creation of molds, which can help to decrease the number of prototypes required, shorten the development cycle, and save energy. 
*1 A depression on the surface of the molded product

Comparison of surface sink marks  (mold temperature dependent)
Sink marks are a molding defect
In products with intricate shapes, the thickness distribution can lead to sink marks on the surface. In some cases, certain areas of the molded product cannot have sink marks due to dimensional accuracy requirements, sealing surface precision, or design parameters. It is critical to have a method to manage the factors responsible for sink mark formation and their location.
Enabling more accurate predictions of sink marks
We have developed a new technology that combines flow and structural analysis to predict sink mark formation during resin curing. By considering shrinkage, elastic modulus, and pressure distribution, our technique can accurately predict sink marks before the molding process begins. This can reduce development time, costs, and energy consumption.
Our technology has been validated with experimental results, confirming its high predictive accuracy, as seen in the figures below. We are also testing its capabilities for predicting vacuum void and sink mark formation in various shapes and materials. Additionally, we are developing a solution technology that takes into account fiber orientation, especially for anisotropic materials.
Validation of the results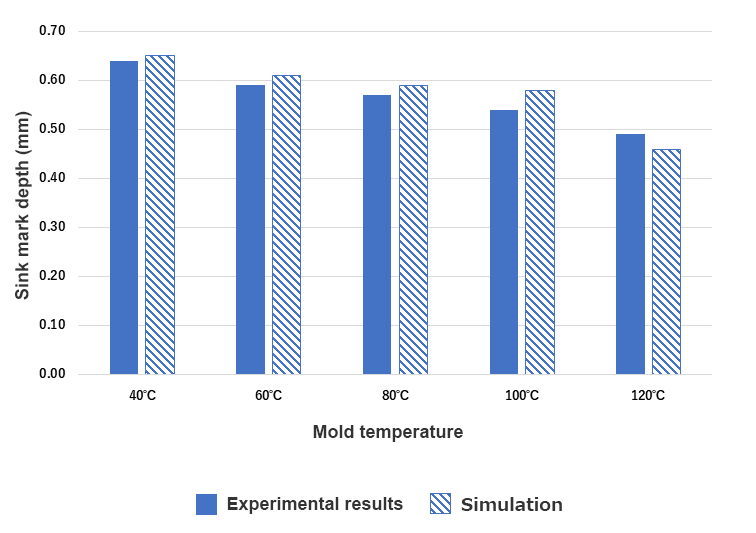 As part of our technical services, we offer consultations on sink mark prediction technology
We use this technology to help our customers with product development right from the design stage. If you have any questions or requests about predicting sink marks in molded products or experimental studies related to this phenomenon, please get in touch with one of our sales representatives or click on the "Contact Us" button at the top right corner of this page.

【Related information】
 ◆ Predicting vacuum voids using POM is now possible with high accuracy: We can support your design development with our original analysis technology
【For inquiries about our technologies and materials, please contact us via 】
 ◆ Polyplastics Group Representative
 ◆ WEB Inquiry