2023
Polyplastics' New DURAFIDEⓇ PPS Grade Delivers Exceptional Heat Resistance for EV Lithium-Ion Batteries
Polyplastics
Polyplastics Group, a leading global supplier of engineering thermoplastics, has announced DURAFIDEⓇ PPS 6150T73, a high-performance material which delivers outstanding heat resistance and exceptional thermal and electric insulation properties, for electric vehicle (EV) lithium-ion (Li-ion) batteries.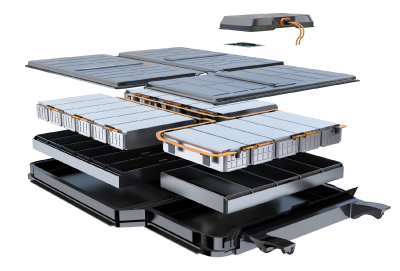 DURAFIDEⓇ PPS 6150T73 is Polyplastics' latest offering for the transformative electric vehicle segment. The material significantly improves thermal and electric insulation properties during thermal runaway without the use of inorganic insulative sheet structures. The material maintains the insulation properties of busbars and module covers even after being left in environments of 1,000°C for 30 minutes.
With the shift from engine-powered vehicles to EVs, today's lithium-ion (Li-ion) batteries (LIBs) can generate excessive heat due to thermal runaway when accidents and other disturbances occur, thus ultimately leading to a potential fire. During a thermal runaway event, a LIB cell can reach temperatures of 800°C to 1,000°C, and the gas it ejects can reach 700°C to 800°C. If thermal runaway occurs in one cell, energy transfer to neighboring cells must be reduced. As a safety measure, structural insulative sheets and plates have been previously used to reduce energy transfer from one cell to another. However, they increase weight and consume space due to the increased number of parts.
In addition to greater heat resistance, DURAFIDEⓇ 6150T73 has optimal properties for components such as module covers and busbars. The high-purity linear PPS also provides high toughness and excellent impact strength while also exhibiting low ionic impurities (extracted components). The material's color is close to white, and it can be tinted.
For more information, visit https://www.polyplastics-global.com/en/approach/22.html