Address Customer Needs with the Development of POM Offering a Thirty-fold Improvement in Acid Resistance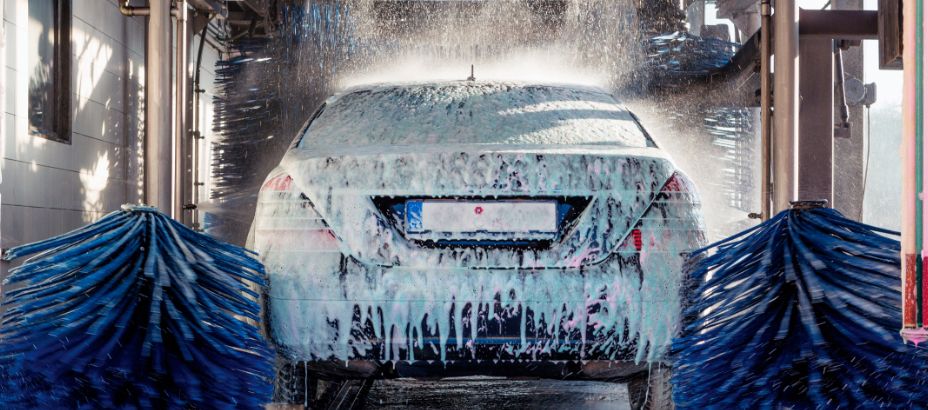 POM is used in a large number of fuel system components due to its superior mechanical properties, heat resistance and fuel resistance, as well as excellent moldability and formability.
POM is also quite commonly used in the fuel system components of American automobiles, but because of the strongly acidic nature of American automotive detergents, there is concern about the effect on fuel system components made of POM when the spray of such detergents come into contact with them. This concern is particularly strong with regard to fuel sender module flanges installed on the exterior of the fuel tank, as they are highly likely to come into contact with the spray of detergents. Due to the potential impact on automobile safety that these components can have, there has been an urgent need from our customers to find more acid-resistant materials to use for their manufacture.

In order to address this need in a more resource and time efficient manner, our Americas TSC worked closely with customers to ascertain their detailed physical requirements while applying Polyplastics' wealth of knowledge and experience towards rapidly developing a material which would meet these requirements.
As a result, we succeeded in developing the new grade of DURACON®POM, a material which meets customers' physical property requirements by providing a roughly thirty-fold improvement in acid resistance when compared with regular POM, as well as offering superior stress crack resistance.
Through an automobile manufacturer, we were able to introduce the new POM to Stant Corporation, an automotive component manufacturer, who has adopted it for use in the production of multifunctional control valves.
These multifunctional control valves manufactured by Stant Corporation are well regarded for the functionality and safety and have been nominated for an IAG Award, which is a major honor bestowed by the American automotive and plastic industries.
FY2019 Awards from customers
In addition to being nominated for the above-mentioned IAG Award, we were honored to be the recipient of the following awards from our customers. We will continue to work to meet the needs and expectations of our customers.
Using AKI-Lock® Technology to Support the Development of Unprecedented Products
At Polyplastics, we not only manufacture and sell engineering plastic, we also use AKI-Lock® technology to support the development of new products which join plastic and non-plastic materials together. This fiscal year saw the development of a completely new type of street lighting joint box utilizing AKI-Lock technology.
Conventional street lighting breakers are housed inside plastic joint boxes installed on poles. During maintenance, workers open these joint boxes to perform wiring, inspection, etc. However, with younger and more inexperienced workers handling these tasks in recent years, there is a growing need among lighting manufacturers to develop joint boxes which will help these younger workers to perform their work efficiently and without mistakes.
In response to such a need expressed by a lighting manufacturer, Seiwa Electric MFG, we worked with one of our partner companies to help with development from the conceptual stage onward.
For the case, a highly weather-resistant, durable plastic (DURANEX®PBT) was used, while the cover was made from a flexible rubber material (nitrile rubber) conducive to external operation of the breaker switches. And to join these two materials together, AKI-Lock was used, resulting in the creation of a revolutionary joint box product that securely prevents rain and other water from getting inside while still allowing operation with the lid closed. Thanks to this, the new joint box reduces stress and hassle for maintenance workers.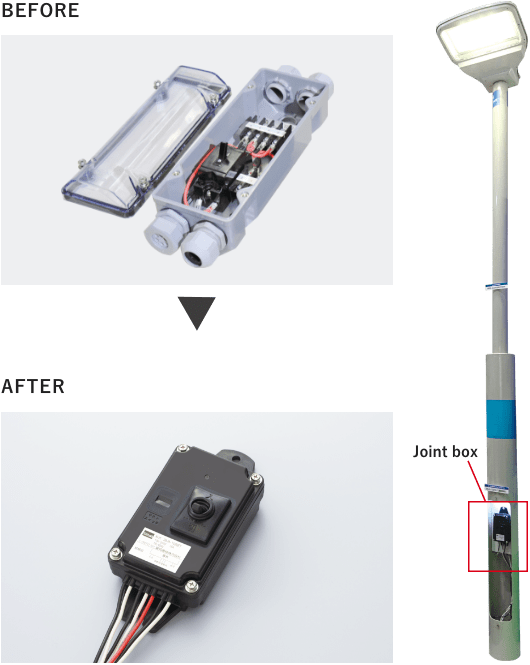 What is AKI-Lock technology?
AKI-Lock is technology which enables resin materials, or resin and non-resin materials, to be joined together without the typical difficulty that this would entail. First, laser processing is performed on the joining surface of the primary molded article to expose the glass fiber. Next, the secondary molding is performed on that point; this allows the primary and secondary materials to be firmly joined together.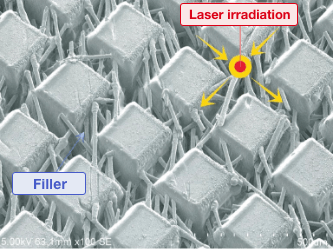 TOPICS
Towards Greater Technical Support

Following Up Product Development for Customers with On-line Support

At Polyplastics, we have established an on-line technical support service, "WEB@TSC®," which customers can join free of charge to receive support 24 hours a day, 365 days a year. In addition to providing various technical information, such as detailed information about physical properties, other product-related inquiries, requests for safety and export-related certificate issuance and other customer needs are meticulously handled. This easily accessible, Web-based service has been well-received among our customers.

Client Voice
Customer Satisfaction Survey Feedback
There is a wealth of data available on the website, and team members are very in their prompt and thorough responsiveness to inquiries about data not found on the website.
The abundance of information about physical properties provided on the website has been helpful when we are dealing with design difficulties.
I appreciate the ease with which I am able to find needed information, as well as the responsiveness to my direct inquiries, that the WEB@TSC service provides.
Survey on "Products and Systems of sales and technical services"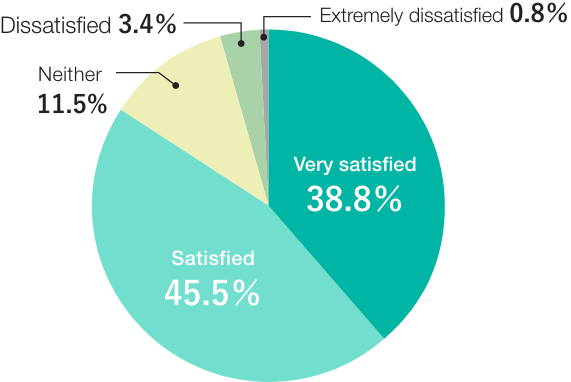 Survey Period

December 4 – 25, 2019

Respondents

Customers (inside and outside Japan)

Survey Method

Survey conducted online in four languages (Japanese, English, Chinese, Korean)

Valid Responses

864
Polyplastics participates in K2019, The World's No. 1 Trade Fair for Plastics and Rubber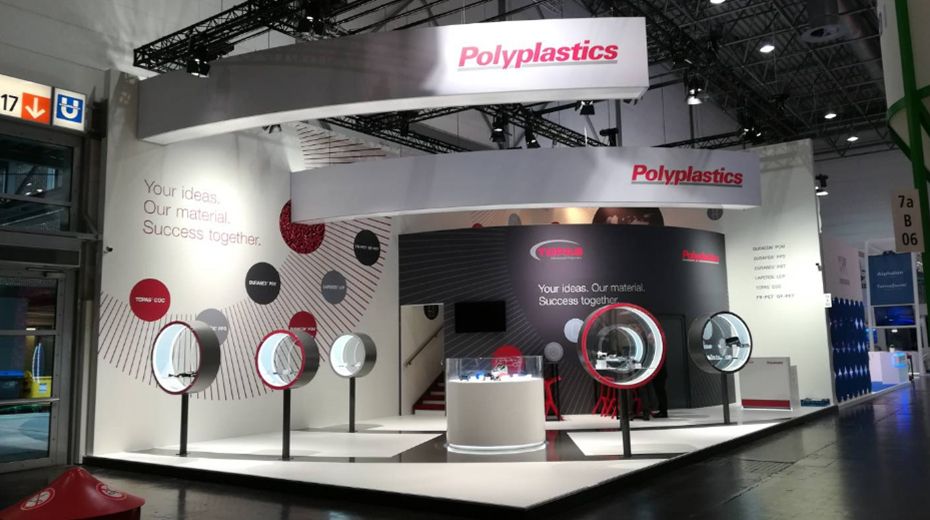 Polyplastics participated in K2019, the world's No.1 trade fair for plastics and rubber, which was held in October 2019.The theme of our booth, "Your ideas. Our material. Success together.", was expressing our technical strength that we can support our customers to realize their ideas.
The booth featured actual examples of the applications that turn our customers' ideas into reality with our plastics, and it also offered customers the opportunity to discuss with our well-experienced, expert staff and engineers about the issues they were facing in their manufacturing.
We also promoted the appeal of our innovation support that was becoming more global, including Americas TSC which had its grand opening in April 2019.
In addition, some of our materials which can contribute to cutting-edge technologies, such as HEV/EV, automobile driving safety and 5G, were displayed. These technologies have growing market demand.
The booth was always busy, and there were 1.5 times as many visitors as the previous K (in 2016). It was a great opportunity for letting more people become familiar with Polyplastics.