Creating an Employee-friendly Workplace
Our aim is to create a workplace which is accommodating of diverse human resources and which enables them to effectively and happily perform their duties. As the foundation for such an environment, we maintain, as well as continue to develop, convenient paid leave systems, including employee reappointment and rehiring systems and childcare and family care leave systems.
Kurumin* Certification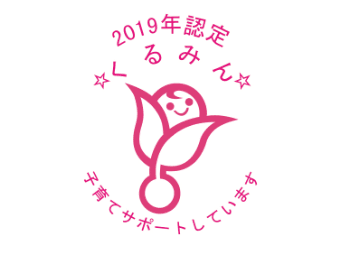 We undertake a variety of measures aimed at ensuring employees can balance childcaring and work without difficulty. In recognition of the effectiveness of our efforts, Japan's Minister of Health, Labour and Welfare has recognized Polyplastics as a childcare-friendly company and certified us with the second star of Kurumin in FY2019.
*Kurumin is a certification mark given by Minister of Health, Labour and Welfare for companies that provide support to families raising children. The stars in this mark show how many times the company received this certification.
Childcare Leave Usage Rate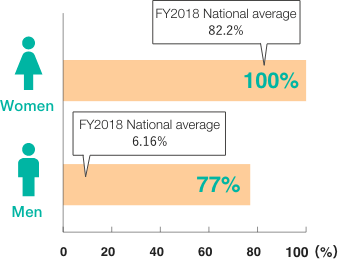 We actively encourage employees 2.6 to make use of childcare leave. The latest childcare leave usage rate among female employees was 100% and 77% among men.
Source: Ministry of Health, Labour and Welfare Basic Survey of Gender Equality in Employment Management in FY2018
Percentage of Employees with Disabilities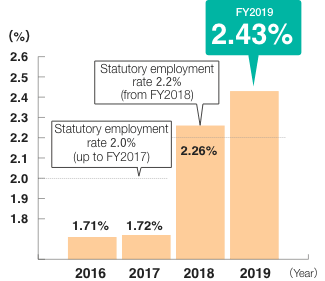 We strive to provide a work environment which is conducive to persons with disabilities. In FY2019, persons with disabilities comprised 2.43% of Polyplastics' workforce. We will continue proactive hiring practices in the future.
Paid Leave Usage Rate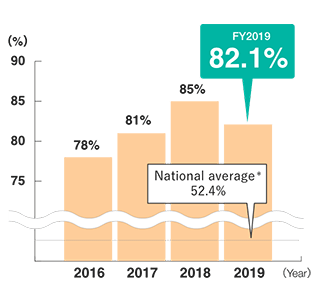 We actively encourage employees to make use of paid leave. This year our paid leave usage rate reached 82.1%, which far exceeds the average for companies in Japan.
*Source: Ministry of Health, Labour and Welfare Basic Survey of Working Conditions in FY2019
Introducing "60+System"
Polyplastics has introduced a new re-employment system, the "60+System," to facilitate to development of a work environment where employees who retired at 60, but who have experience, expertise, and skills, are able to achieve better performance.
Under this new system, the company's expectations and the employee's wishes are more strongly matched; additionally, it enables workplaces to better accommodate the employee's situation and wishes (i.e., reduced number of working days and flexibility in workplace choice), as well as puts an appraisal system in place which takes the employee's contribution to the organization into consideration.
Polyplastics will continue to work to ensure that employees over 60 are able to be a happy and productive part of their workplace.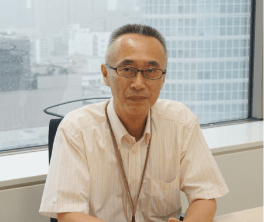 Human Resources Development